CRIMINAL LAWYERS REFER THEIR DIFFICULT CRIMINAL CASES TO US. YOU SHOULD NOT HESITATE TO CALL.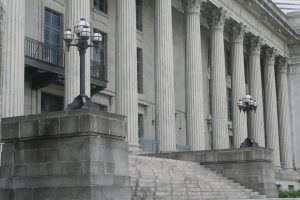 Federal Crimes
As a former Assistant District Attorney, and now defense attorney providing extensive and in-depth criminal defense, David I. Goldstein fiercely upholds the Constitutional rights of all to professional legal representation when charged with a crime. Every defendant can be helped. We provide the highest level of a defense. Offering free, confidential consultations that are both flexible and friendly, we focus our every effort to each client's case, understanding the urgency and seriousness of the situation. As criminal defense lawyers backed by more than four decades of legal experience, we provide counsel and representation for even the toughest cases in New York and New Jersey.
PROVIDING UNPARALLELED AID IN ALL FACETS OF CRIMINAL LAW, WE TAKE ON THE FOLLOWING FEDERAL CRIMES:
Conspiracies
Racketeering/RICO Offenses
Tax evasion
Child pornography
Mail Fraud
Computer crimes
Identity theft
Credit card fraud
Bank robbery
Counterfeiting
Contact us before waiving your Miranda Rights. Because of the long-term consequences of a federal offense conviction, it is imperative that you obtain skilled and experienced legal representation as soon as possible. Advocating for you throughout every step of the legal process, we focus our complete attention on securing the best possible outcome in your case. Let us help you get through this trying time by reducing the confusion and anxiety of being charged with a federal crime. Call us for your personal legal consultation now. We answer the phone 24 hours a day, seven days a week.